Click Game Title To View
I'm getting close...but my collection is still incomplete. If you have any Intellivision games for sale that are not on the above list, please contact me here.
All product names, logos, brands, trademarks and registered trademarks are property of their respective owners.
---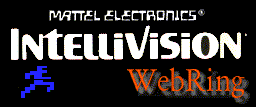 This Intellivision WebRing site is owned by Ambrosine.

Want to join the Intellivision WebRing Family? Click to learn more!


[Skip Prev] [Prev] [Next] [Skip Next] [Random] [Next 5] [List Sites]
List Site
Next 5 Sites
Previous 5 Sites
Join the Syndicate!

This Classic Video Gaming Syndicate site owned by Ambrosine.
---
page created June 16 1999



---
Visit my other page for adventure, arcade, and childrens games to download, classic game links, and a comprehensive list of game creation resources for non-programmers.